Qunzhong Street
Qunzhong street, also known as Beili street, is located next to the second middle school in Sanya City. It is the most complete snack street for Sanya local traditional snacks. There are Jishiteng, coconut roll, brown sugar New Year cake, sweet and sour flour, glutinous rice dumplings, purple potato dumplings, etc. it is a must for friends who want to taste Sanya local snacks.
Shengli Road
Shengli road can be called Huangliu old duck street. The main food materials of the small shops here are basically yellow flow duck, but the methods have their own characteristics, such as fried leek with duck blood, fried balsam pear with duck miscellaneous, white chopped duck intestines, etc. In addition, there are some Hainan local delicacies such as steak and hot spring goose, which are authentic and affordable.
Jianshe Road
Jianshe Road is the oldest street in Sanya. Here is a collection of delicious food from all over the country, from Sanya seafood to Lanzhou ramen, Sichuan cuisine restaurant, northeast cuisine, etc.
Foreign trade road
The foreign trade road is only 700 meters, but it integrates the southern and Northern snacks. Such as Guilin rice noodles, river noodles, qingbuliang, Hangzhou xiaolongbao, Shanxi noodle shop, northeast cuisine, Nanchang chicken, fresh barbecue and so on. There is also a small farmer's market with fruits and vegetables.
Tuanjie Street
Tuanjie street is also an old street. It used to be mainly barbecue. After reconstruction, it has become a new snack street. Sichuan cuisine, Shanxi cuisine, Jiangxi cuisine, Qiong restaurant, self-service barbecue and all kinds of foreign snacks are all gathered here, forming a diversified food flavor.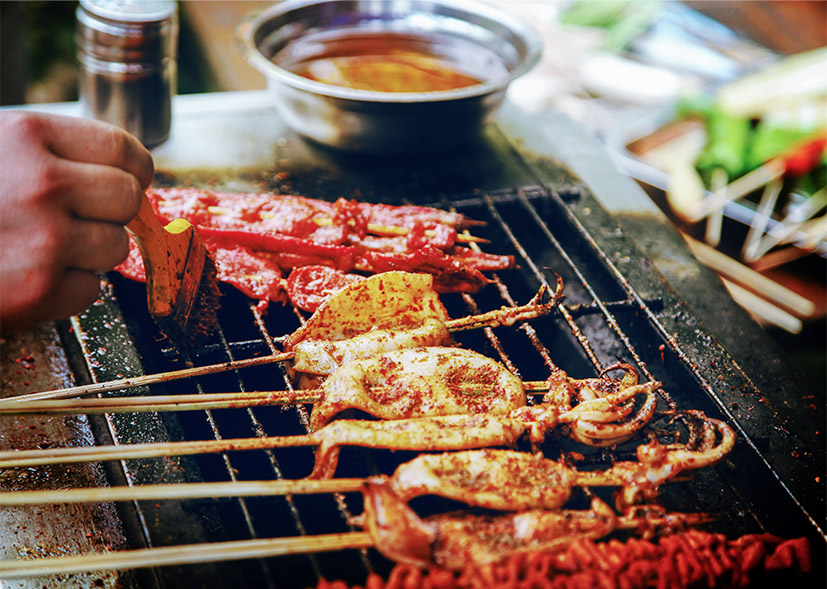 Commodity Street
Due to the large floating population in the commodity street, in order to meet the different taste needs of tourists from all over the world. In addition to the unique local Hainan flavor, it also has the main Chinese dishes.
Xinmin Street
Sanya's largest seafood processing street, there are almost dozens of seafood processing shops, daily flow is very large, especially foreign tourists, like to buy seafood processing here. In addition, the snacks here are mainly all kinds of tropical fruits fried with ice, clear tonic cooling, coconut rice, seafood barbecue, etc.
Danzhou Sanxiang
Danzhou Sanxiang is mainly Hainan local snacks, such as gangmen noodles, pig's feet rice, fish soup, etc. in Sanya. In the evening, it is mainly night snacks such as barbecue and qingbuliang.
Chunyuan Road
Chongqing hotpot, mutton hotpot, beef hotpot and other kinds of hotpot are gathered in this street. The most distinctive one is Hakka dish, chicken with pork tripe. The soup is thick and clear. It has a strong smell of herbs and pepper, which people will never forget once they drink it.
Jiefang Road
Sanya Jiefang Road Pedestrian Street occupies the central position of the downtown business district. Most of the restaurants are modern and foreign style, mainly in leisure bar and coffee shop, which is a good place for shopping and afternoon tea.